Kettler from Trisport AG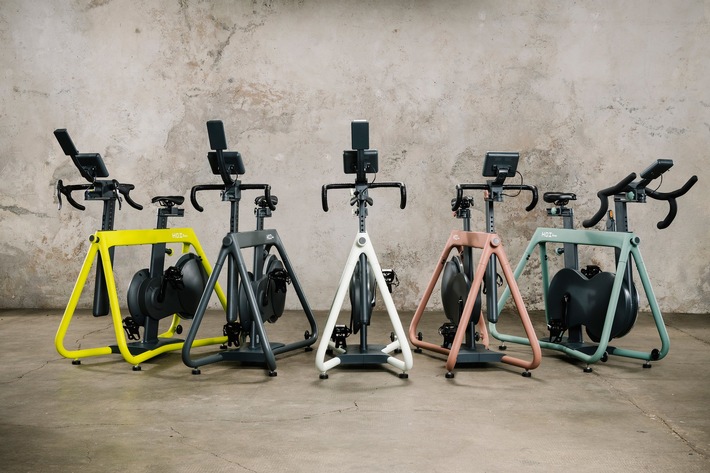 3 acts
Press release
Design meets fitness: with HOI FRAME BIKES, KETTLER presents a new generation of home sports equipment
Hünenberg/Switzerland, November 24, 2022. Redesigned fitness equipment: With the "HOI by Kettler" FRAME BIKES, the traditional brand KETTLER presents the first of a new design-oriented range of cardio trainers. The devices were developed in close cooperation with renowned design studios and embody the idea of ​​integrating fitness devices into our living spaces as stylish home accessories. HOI FRAME BIKES will initially appear in all three versions SPEED, FRAME and FRAME+, each covering the requirements of different training preferences. The SPEED model should be available at specialist retailers and in our own online shop https://kettlersport.com/de-de/ from January 2023, the FRAME and FRAME+ models will follow in March 2023.
Not black and formless, but in trendy and compatible colors with a modern furnishing style – this is the approach with which Kettler CEO Melanie Lauer started two years ago to give new impetus to the market. home sports equipment. She was helped in the realization of this idea by the famous product designer Julian Hönig, who was, among other things, a long time member of the design team of Apple in California, the London agency ForPeople and the American specialist EnergyFit fitness.
"Fitness now plays such an important role in so many people's lives – and yet most machines look so good that you'd rather put them in the basement or in the corner of the bedroom than you can. not see," says Melanie. Lauer. "We want to change this and further integrate fitness equipment, which of course meets the highest requirements in terms of functionality and quality, into our living environments – and in doing so, perhaps also overcome a motivational obstacle Also, people now live in much smaller spaces, so there is often no opportunity to create a separate workout area.
In addition to their extraordinary design, the new HOI by Kettler indoor bikes are also characterized by their functionality. The special frame construction, reminiscent of a racing bike, ensures the necessary stability even with the highest training intensity, the saddle and handlebars can be variably adjusted to the preferred training position. In addition, all HOI FRAME BIKES offer flexible connectivity. Thanks to Bluetooth and the open FTMS and ANT+ interface, everyone can use the fitness app they prefer to train with and track their sports performance. "We don't want to dictate a system or software to our customers, we want to offer them the greatest possible flexibility – that's why our HOI FRAME BIKES can be connected to all common fitness apps and many wearable devices" , explains Melanie Lauer.
The following three models are initially available:
HOI SPEED
The HOI by Kettler SPEED model is aimed at performance-oriented athletes who prefer intensive indoor cycling training. The drive and brake system with front wheel drive and magnetic brakes allows up to 20 manually adjustable resistance levels, so that a power of up to 1000 watts can be achieved. A sporty multi-position handlebar, adjustable racing saddle and combination click pedals complete the high-intensity training experience. The integrated LCD display always offers an exact overview of the performance data. Bluetooth and ANT+ also allow connection to chest straps and connectivity to FTMS-based fitness apps. The HOI SPEED is available in the colors grey, stone, eucalyptus and as a BVB edition and is available from 1,799 euros.
HOI FRAMEWORK
The HOI FRAME is the all-rounder among the new models and allows both basic and intensive endurance or competition training. This is ensured by the rear-wheel drive with a maximum power of 600 watts and 20 different training programs which can be individually set according to the needs of the user. With the 7-inch TFT touchscreen, the most important training data such as time, distance, energy consumption, watt performance and heart rate are always visible during a cycling session. The Bluetooth and ANT+ interface allows connection to chest straps and wearables as well as full connectivity to FTMS-based fitness apps. The FRAME model is available in the colors grey, stone and terracotta and costs from 2,599 euros.
HOI+ FRAMEWORK
The HOI from Kettler FRAME+ is the ideal indoor cycle for all racing cyclists, triathletes and those with sporting ambitions who want to improve their performance regardless of wind and weather. The electronic shifting on the racing handlebars, the individually adjustable drive position and the combined clicker pedals of the FRAME+ allow for a realistic riding experience, just like on the racetrack. 20 different programs and the ability to freely configure heart rate-based training units help you achieve your personal training goals. All progress can also be tracked and tracked via wearable devices via Bluetooth and ANT+. All training programs can be called up on the 7 inch touch screen. The FRAME+ has a maximum power of 1000 watts and is therefore also suitable for high-intensity cycling training. It is available in Grey, Stone and Shock colors from 2,899 euros.
Images of the new HOI FRAME BIKES can be downloaded from the following link: https://we.tl/t-Vvu6HmAEEw.
About Kettler
The sports division of the traditional German brand founded in 1949 was taken over by the Swiss distributor Trisport AG at the end of 2019. Kettler Sport offers innovative products for home use in the areas of home trainers, ergometers, recumbent ergometers, exercise bikes indoor, ellipticals, treadmills, rowing machines and multi-gyms. Bestsellers include the ALPHA RUN series of treadmills and the TOUR series of ergometers. The new range of high-quality AQUAROWER rowing machines brings a real feeling of rowing to your living room. Kettler fitness equipment is exclusively produced and distributed in the EU, EFTA and Turkish markets by Trisport AG, Hünenberg/Switzerland.
Pressekontakt
dot.communications GmbH
Tel. 089-530797-23
E-Mail: kettler@dot-communications.de